How to mine ETHPoW (Ethereum PoW)? Mining software. Forecast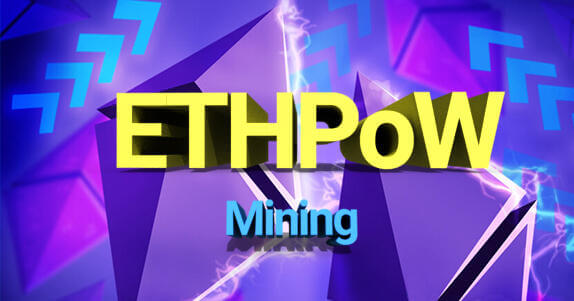 ETHPoW (or: Ethereum POW, ETHW, IOU) is a fork of the Ethereum coin. The coin appeared on September 15, 2022, thanks to hardcore.
Etheerum switched to PoS, and some manners refused to accept this fact, in connection with which a split occurred in the network and a new (with a dubious future) cryptocurrency appeared - ETHPoW (IOU).
In this article we will tell you:
How to mine ETHPoW: miners, pools
Which exchanges will list ETHPoW
What is ETHPoW
The future of the coin
How to get an Airdrop
Disclaimer: This article is not financial advice. This is just a mining guide showing you how to start mining ETHPoW, and its supposed future in the world of cryptocurrencies according to the authors Bytwork.com . Do your own research, and it depends only on you whether you want to mine it, store it, and so on.
System requirements mining farms
Video cards (NVIDIA and AMD, video memory of at least 6 GB).
Operating system: Windows, Linux.
Virtual memory (swap file): Set 5 GB of virtual memory for one video card (set 30 GB for 6 video cards).
Mining software: Phoeinx Miner, T-Rex, Gminer, lolMiner and others.
How to mine ETHPoW: a quick answer
So, as in fact ETHPoW, this is the same Ethereum, its mining is almost no different.
For mining, you need:
Get a digital coin wallet on: exchange, wallets
Choose a pool that is convenient for you
Choose a mining program (miner)
Creating .Bat file with settings
Launching mining
Next, we will look at all these points in detail.
How to mine ETHPoW?
So, let's look at all these points in more detail. Let's start with the first point: creating a digital wallet for the ETHPoW coin.
Where can I get an ETHPoW digital wallet? Which one will do?
For ETHPoW mining, you can use the following type of wallets.
Wallet on the exchange:
You can also get a wallet on the following wallets:
Example of an ETHPoW wallet:  0x2CfRf12R1e2DaD802812F022219fb1F2bFz1D4aQ
Mining pool
At the time of writing, there is a very small number of ETHPoW mining pools!
List of pools:
Pool

Fee

Minimum payout

 

~ Hashrate

 

1 %

PPLNS

1

4.72 GH/s

0 %

PROP

0.5

158.44 MH/s

ua-mining.com [SOLO]

1 %

SOLO

0.02

 

1 %

PPLNS

0.02

 

1 %

PPLNS

0.05

 

1 %

PPLNS

 

 
Choose a pool that is convenient for you.
You can find all the pools that allow you to mine ETC on the website: miningpoolstats.
Download software for mining ETHPoW
Since this is a fork of Ethereum, the same programs that were needed for Ethereum mining will work:
| | | |
| --- | --- | --- |
| Program | Series | Setup and Download |
| Phoenix Miner | AMD/Nvidia | |
| T-Rex miner | Nvidia | |
| Gminer | AMD/Nvidia | |
| lolMiner | AMD/Nvidia | |
| NBMiner | AMD/Nvidia | |
| TeamRedMiner | AMD | |
All these miners support AMD and NVIDIA graphics cards and are available for both Windows and Linux.
On our website there are detailed reviews of all of the above miners: how to configure them, a description of all commands, how to configure LHR unlocking, problem solving and much more.
You will also find in these articles ready-made programs (customized .BAT files), where you will only have to replace digital wallets with yours!
Now let's take a detailed look at the configuration of the popular miner - Phoenixminer.
Phoenixminer: setting up for ETHPoW
Phoenixminer is currently the most popular miner for mining Ethash and ETChash.
Ready. The bat file looks like this:
PhoenixMiner.exe -pool ssl://ethw.pool-moscow.ru:9009 -wal 0x1DE28FDcfF94656CBaCe3557FF1239CC0F61a3cE -worker Bytwork -pass x -log 0 -retrydelay 1 -Rmode 1 -fret 1 -rate 1 -coin ETH
pause
Let's analyze in more detail:
PhoenixMiner.exe - this program key. This way we indicate which program will be launched. We leave it as it is
-pool ssl://ethw.pool-moscow.ru - pool server. We change it to another pool or leave NanoPool
:9009 – the pool port. In this case, the Nano Pool port (coin ETC)
-wal 0x1DE28FDcfF94656CBaCe3557FF1239CC0F61a3cE – specify your digital wallet
-worker Bytwork is the name of your farm's worker. Used for the convenience of tracking statistics
-pass x - password on the pool. Almost never used on pools. For Nano Pool we leave "x"
-log 0 - responsible for logging miner events. 0 - means not to keep a log. If you set -log 1, then a log will be kept
-coin ETH – specify a specific coin. In this case, the (ETH)
pause remains - it means that if you configure something incorrectly, the miner will not close immediately, but will display an error code
That's all, save it.BAT file and run it. Mining will be launched!
You will find the settings for the other pools in this review. Download the program, select a pool and change digital wallets.
The best overclocking for mining
Since this coin is a fork and it is identical in mining, then overclocking is the same.
There is an article on our website with the best overclocking options on various video cards:
In this article, the tables show different overclocking options for different GPUs. In them you will find overclocking options with the best consumption and with a good hashrate, with minimal consumption and no large hashrate, with maximum overclocking and high consumption, as well as average indicators!
Which exchanges will list ETHPoW?
At the time of writing, only 9 exchanges have listed the ETHPoW coin:
What is ETHPoW?
ETHPoW is just a fork of Ethereum, without any global ideas.
Their main goal is to continue mining Ethereum on video cards. That's it, there are no more goals!
A group of miners disagreed with the fact that Ethereum was switching to PoS and created this fork.
The coin belongs to Chinese developers.
The future of the coin
The future of the ETHPoW coin is doubtful. The coin was created only in order to mine on video cards.
The same Ethereum Classic carries more benefits (and is also mined on video cards): has a large community, is improving, developing and so on.
There are a lot of coins like ETHPoW on the market and this coin does not attract much attention, since there is already an established fork of Ethereum on the market – Ethereum Classic, which is mined on video cards.
To mine this coin or not is up to you.
In our opinion (not financial advice), this coin can be mined (if it is profitable for all calculators) and immediately sold in exchange for real Ethereum or for other coins of interest to you!
How do I get an Airdrop?
According to the developers, getting an Airdrop is very simple. All you need is to store ETHPoW coins on your wallet:
Official (Geth)
MetaMask
Hardware – so far, no hardware wallet has confirmed the listing of this coin, and therefore its Airdrop
Also, some exchanges have reported a possible airdrop. Among such exchanges are Binance and BitMEX.
Useful links
Below we list useful links:
Want to be the first to receive unique and important information?
Bookmark us!
Subscribe to our projects!