How to mine cryptocurrency KASPA (KAS)? Dual mining KAS + ETC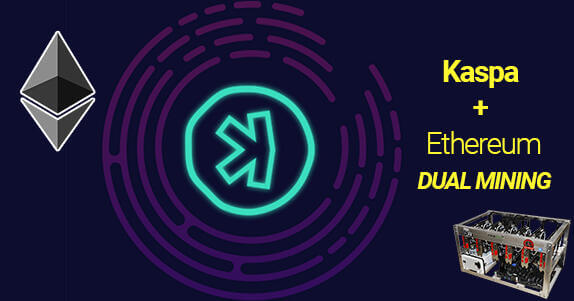 In this review, we will tell you how to mine the cryptocurrency KASPER (HAS) Dual Mining: ETC + KAS.
How to mine KASPA+ ETC: a quick start
Below we will briefly list the steps on how to mine ETC + KAS:
Get a digital coin wallet (use a WEB wallet)
Choose a pool that is convenient for you
Choose a miner
Go to Hive and configure KAS for mining: enter your wallet
Create a Flight sheets
Set up overclocking (if necessary)
Next, we will look at all these steps in more detail.
Miners for KASPA (KAS)
The list of miners that allow you to mine the KAS cryptocurrency both solo and dual:
At the time of writing, Lolminer version 1.53 BETA 3 brings more stable and more hashrate.
If you don't have an upgrade to BETA 3. Command to manually update Lolminer version 1.53 BETA 3 (in Hive):
«cd /tmp && wget https://github.com/Lolliedieb/lolMiner-releases/releases/download/1.68/lolMiner_v1.68_Lin64.tar.gz && tar -xvf lolMiner_v1.68_Lin64.tar.gz && miner stop && cp -adpR 1.68/lolMiner /hive/miners/lolminer/1.68 && miner start»
Useful links
Mining ETC + KAS Dual Mining
Next, we will analyze in detail all the steps for setting up the mining of the KAS coin!
Cryptocurrency Wallet
The first thing you need to do is get a digital coin wallet.
There are 2 simple ways to get a KASPA coin wallet:
There is also another way to get the digital address of the coin – installation PC wallet.
However, we would not recommend this type of wallet to you. Especially if you already have other, reliable, verified wallets on your PC.
If you are a hardcore fan, then you can use the Command Line wallet (CLI).
KASPA wallet of the exchange
The first way. The easiest way is to get a wallet on the exchange.
The coin is traded on only 2 exchanges (exchanges are not popular):
We strongly do not recommend that you use these exchanges to store and mine coins on them!
It is better to use the second method!
KASPA Web Wallet
The second way. Store coins on a Web wallet - wallet.kaspanet.io.
Please note that periodically the wallet site crashes into the "525" error.
Update the site a couple of times and you can get to it!
Go to the website. Click on the "Create New Wallet" button.
A new page will open where you have to come up with and enter a password (be sure to rewrite this password on paper!):
After you have entered the password, click on the "Next" button.
A new page will open, where your Seed phrase will be:
Be sure to rewrite it and keep it on paper!
After you have rewritten the Seed phrase and clicked on the "Next" button, a new page will open where you will be asked to check the correctness of the rewritten Seed phrase.
In this case, we were asked to specify the 12th word, then the 3rd and 7th Seed phrases:
After you have entered all 3 words correctly, you will receive a notification about a successfully created wallet (click the "Done" button):
A new page will open where your digital wallet (and its QR code) will be indicated.
Please note that the wallet contains the word "kaspa:", so you need to specify it in the miner setup!
Example of a Kaspa wallet:
kaspa:qzeeh7tdwfeclas3vk67x6907ud8tlv3lc5yk2ejf9z73uh85uehjxwuezqtg
Pool Selection
At the time of writing, there is only 1 pool for mining the Kaspa cryptocurrency:
acc-pool.pw [SOLO]
Please note that the pool commission is 2% (PPLNS).
Setting up a Miner in Hive under Kasparov
Next, go to the Hive website and add the wallet to hives.
As we mentioned earlier, you need to specify a wallet with the value "kaspa:".
Next, we create a Flight sheets:
We indicate the Ethereum Classic coin first
We specify the wallet
Choosing a pool for LTC mining
We specify the miner itself
Click on the "add miner"
button In the second line, select the KAS coin
Specify the created wallet
Choose to configure the miner
Next comes the setup of the miner:
Standard settings
We leave it like this, you can add: "--gpu-auto-tune 1"
Adding a pool. Let's look at this in more detail
Go to the pool's website kaspa.acc-pool.pw to the "Getting started" section.
Next, depending on your region (or what is closer to you), choose the Stratum url:
If Germany is closer to you, for example, then we indicate this:
«stratum+tcp://acc-pool.pw» (bold highlights what we took from the site).
Next, we need to select the pool port - 16061
The full setup looks like this:
«stratum+tcp://acc-pool.pw:16061»
That's all we start mining!
Overclocking of Dual mining ETC+KAS
Overclocking for KAS mining in dual looks like this:
Core frequency – 1700 MHz
Core voltage – 750 mV
Memory frequency – 1065 MHz
Memory Voltage – 1250 mV
SoC VDDmax – 800 mV
In fact, we get +- the same parameters as on Ethereum Classic.
The development team posted their examples of overclocking for almost all video cards: kaspawiki.net
What to do with the found coins: forecast?
What to do with the mined coins is up to you. Below we will give our opinion on the account of this coin!
Please note that this is not financial advice! It's up to you to decide what to do with your coins!
We have been involved in the world of cryptocurrencies almost since the beginning of 2016! We saw a lot of coins that appeared hyped and died. Of course, there were also such coins that are alive to this day, but they are negligible!
In our opinion, the KAS coin is another bubble that can now bring you additional profit in mining, but in the future the coin will most likely completely die.
In our opinion, the best solution is to sell 10-20% of coins every two weeks (month), depending on your capacity.
Also add the coin rate to bookmarks and track its growth and sell the lion's share of coins on the HYIP. By HYPE, we do not mean x's of 500-10000%, but a small increase in the coin (10% or more percent). So you will definitely protect yourself, because if the coin dies and you Hodl it, then all your efforts will be in vain!
think about your future, a huge number of "new, cool, hype coins that could be dug in Dual mining" have died (without being revived) in our memory!
Useful videos
Want to be the first to receive unique and important information?
Bookmark us!
Subscribe to our projects!