Ethereum faucet what is it? List of faucets that pay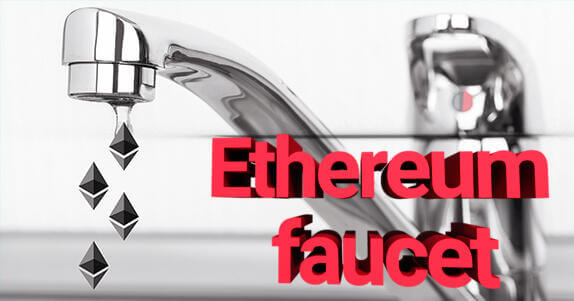 The first Ethereum faucets appeared in 2016, before that almost all faucets issued money in bitcoin. The transition was caused by the huge popularity of Ether.
Faucet are a unique opportunity to get a certain amount of ether for free for performing a few simple actions.
How to earn Ethereum for free?
The Ethereum Faucet is a website that gives users a certain number of coins for free for visiting. As a rule, to get broadcast for free, it is enough to enter a captcha or just visit the site at certain intervals.
Getting rich by getting Ethereum for free at Faucet is almost impossible. A visitor needs to spend more than 300 hours on such sites in order to earn an average wage at the level of the third world countries. On the other hand, the visitor is not required to perform complex actions, and the cost of Ethereum can increase, and thus bring more significant profit.
Now there are a lot of such sites and this allows you to select a list of the best sites and draw up a schedule for visiting them, thus obtaining a low, but easy and stable income in a promising cryptocurrency.
Best Ethereum faucets that pay
Now there are a lot of services that distribute Ethereum for free. There are several main ones among them:
| | | | | |
| --- | --- | --- | --- | --- |
| Faucets name | Interval between requests, min | Free Ethereum (GWEIS) | Status | Withdrawal wallet |
| Speedy ETH | 1 | from 32 | pays | Faucethub |
| Swissadspaysethfaucet | 10 (18 times a day) | from 570 | Does not pay | Faucethub, Ethereum Wallet |
| Faucetcrypto | 10 | 159 - 244 | pays | Ethereum Wallet |
| Claimethfree | 5 | 3000 | Does not pay | Faucethub |
| Allcoins | 5 | 1080 | pays | Faucethub, Ethereum Wallet |
| Zandey | 5 | 486 | Does not pay | Faucethub |
| 8raa | 5 | 486 | pays | Faucethub |
| Bitcoin-s | 5 | 484 | pays | Faucethub |
| Multi-Coin Faucet | 30 | 500 | pays | Faucethub |
| autoFaucet | 50 - 10 | from 340 | pays | Faucethub |
| BTCFaucet Design | 5 | 484 | pays | Faucethub |
| Want2Crypto | 5 | 485 | pays | Faucethub |
| autoBitcoin | 5 - 10 | 340 | pays | Faucethub |
| Queenfaucet | 3 | 582 | pays | Faucethub |
| Vivocoin | 5 | 486 | pays | Faucethub |
| Faucethero | 5 | 195 | pays | Faucethub |
| Warriorfaucet | 5 | 291 | pays | Faucethub |
| Free4claim | 5 | 120 | pays | Faucethub |
| Ether-swiss | 30 | 30000 | pays | Faucethub |
Ethereum faucets with instant withdrawal
Ether-hot - for visiting the service every 5 minutes, you can get guaranteed 50 Gwei. You can withdraw earnings after each visit, but in some cases you may face a lack of funds on the platform. In this case, earnings will accumulate on the account until the user decides over time and withdraw it.
Faucetcrypto - at faucet you can get in 28 different cryptocurrencies, including Ethereum. For one collection, you can get up to 400 Gwei at intervals of 15 minutes. In total, more than $ 5,000 has been collected on the service.
Speedup.faucet.ether - on the faucet you can get from 0.00000710 to 0.00002840 ETH every 10 minutes, as well as 20% of referral fees.
Bitcoin.s.ethereum - the faucet offers a choice of earnings in Bitcoin or Ethereum. For visiting the site every 5 minutes, you can get up to 1200 Gwei.
Accumulative Ethereum faucets
A number of services offer to store the received coins for some time on their site. After a certain amount of coins has accumulated on the user's balance, the user can withdraw money to his main account.
Advantages of accumulative faucets: high rates for obtaining GWEIS, additional ways to earn money on the sites - games, tasks, and Staking (annual or even daily percentage of the total amount).
Name
Gwei
Interval
Profit
Withdrawal wallet
Freeethereum
25 - 25058260
1 hour
Faucet, additional chances, twitter promo code for additional request, 50% referral program
direct payments to any ETH wallet. It is necessary to accumulate a balance of at least 0.00500000 ETH
Аree-ethereum
70 - 16703832
every hour
Getting eht, playing, 8% rate per annum,
referral program
to the ETH address upon reaching the balance 0.00200000
3btc
32-12064335
1 hour
faucet, referral program
FaucetPay
Speedsatoshi
42
the number of requests is not limited
Registration required,
multicurrency faucet, 20% referral program
FaucetPay - minimum 0.02 ETH, Expresscrypto or direct wallet.
Firefaucet
743 Gwei daily, 200 Gwei every 30 minutes
everyday
daily bonus, exchange for the desired currency, automatic requests, PTC, tasks, automatic receipt of coins, referral program (20%).
The minimum payout on FaucetPay is 0.004 ETH, and the direct payout is 0.007 ETH.
Fly-eth
250 Gwei daily, 200 Gwei every 30 minutes
1 time per hour
getting satoshi, games, referral program (20%).
direct payment
How Ethereum faucets work
The first faucets began to appear at the dawn of the formation of the cryptocurrency industry. Crypto enthusiasts began to launch special platforms where anyone could get a certain amount of cryptocurrency.
The purpose of creating such platforms was the need to inform the public about cryptocurrencies, drawing attention to them. Also, on the platforms, a system of mutually beneficial relations between the site owner and users was implemented, through which everyone could receive income.
Free air is distributed to attract stable traffic of visitors to the site. The owners of such sites make money on advertising and are ready to share their income with visitors by transferring a certain amount of crypto resources to them.
Cryptocurrencies on such sites are handed out completely free of charge, if you miss the value of the time it takes to visit. Users are only required to provide the very stable visiting traffic and, accordingly, inadvertently view advertisements, and in some cases - to certify their visit by entering a captcha.
From such cooperation, everyone remains in the black, but there are not very conscientious faucet owners who do not pay the promised coins to visitors, so you should be careful when choosing a platform for making money so as not to waste time.
Advantages and disadvantages of making money on a faucet
Faucets that pay for a visit, although they do not give out a lot of money, but the income from them can grow exponentially along with the growth of the cost of the cryptocurrency.
Visiting Faucet can become additional income that does not require significant time costs, and you can earn income in this case in dollars, euros and promising cryptocurrencies.
Low wages are the main disadvantage of Ethereum faucet. You can get cryptocurrency in this way completely without investment, but the amount of earnings cannot be compared with other methods.
 How reasonable is it to spend efforts and receive insignificant income while the owners of such platforms earn many times more? But if you are ready to allocate at least $ 20-30 in order to start making money on cryptocurrencies, then we recommend that you familiarize yourself with other options for earning Ethereum.
Conclusions
Ethereum faucet is the easiest way to get hold of a certain amount of cryptocurrency without much effort and absolutely no investment. Earnings on such platforms are insignificant, but it can increase significantly, with the growth of the value of the cryptocurrency.
This method may be suitable for those who want to get acquainted with cryptocurrencies, are ready to spend a certain amount of time on this, but are not ready to invest financially. For those who are ready to allocate at least a few tens of dollars in order to start making money on cryptocurrencies, there are many other ways to get Ethereum.
Want to be the first to receive unique and important information?
Bookmark us!
Subscribe to our projects!