Cryptocurrency brokers - rating of the best brokers 2022. Who to choose?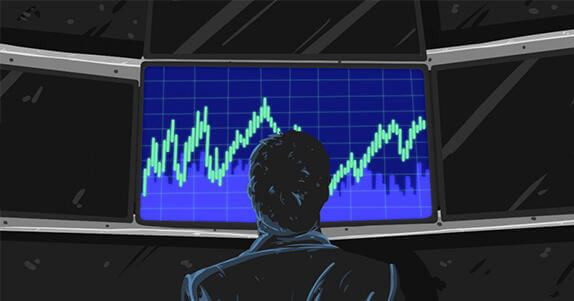 As cryptocurrencies gained value, trading in them became more and more popular. For a long time, those who wanted to make money on digital assets were left to themselves. Not knowing the exact rules of the game, they gradually moved forward, learning from their own mistakes. Some, having received a bitter experience, left the market.
But closer to 2017, everything changed. A sharp jump in the value of top cryptocurrencies made brokers from traditional financial markets pay attention to them, and those who gained knowledge through their own work began to help others earn.
What is a cryptocurrency broker?
Cryptobroker is an intermediary platform on which it is possible to conduct transactions for the purchase and sale of digital assets using special exchange instruments.
This is a kind of assistant in making transactions on the cryptocurrency market, but brokers charge a commission for their services. Instead, they offer an easy way of trading that does not require special knowledge and skills.
The broker accompanies the trader at all stages:
Opens trading accounts and cryptocurrency wallets;
Helps to make purchase and sale transactions;
Provides instruments such as leverage, CFD, hedging;
Helps in finding contractors.
Brokers provide their clients with a powerful analytical basis in the form of various indicators, statistics, technical analysis and ready-made trading strategies. The quality of this data significantly affects the success of cooperation with a particular broker.
The difference between a broker and an exchange
Brokers offer a trading arsenal significantly exceeding that offered by the exchange:
The opportunity to make money on both bullish and bearish trends;
Huge leverage of 1:1000, against 1:100 on cryptocurrency exchanges;
High-quality tools for technical analysis and automatic trading.
Trading through brokers is characterized by increased reliability.Trading platforms have repeatedly discredited themselves. Everyone remembers the scandalous bankruptcy of Mt.Gox in 2013 and the blocking of BTC-e exchange accounts. Against this background, brokerage companies that are regulated by law look more reliable.
On the cryptocurrency exchange, users are left to themselves. A trader on the broker's platform receives professional support and access to such instruments as leverage, CFD and hedging.
If exchanges offer to trade mainly through websites, then most brokerage companies also provide trading terminals equipped with a huge number of tools for technical analysis.
The number of cryptocurrencies presented also differs. Brokerage companies often provide 10-15 top cryptocurrencies for trading, while large exchanges list up to several hundred coins, including illiquid ones.
The Best Cryptocurrency Brokers
Cryptocurrencies provide a unique chance to significantly increase your capital.
If you want to make money on any movements of the exchange rate, and not just wait for the purchased asset to grow in price many times, then you cannot do without the help of brokers.
Bitmex
Website: bitmex.com
Leverage: 1:100 for Bitcoin and 1:50 for Ethereum.
Supported cryptocurrencies: 8 top cryptocurrencies from Bitcoin to Cardano.
Terminal: TradingView.
Commission: 0.0250% maker; 0.0750% taker.
Trading time: any.
Advantages: no commissions for deposit and withdrawal of funds.
Disadvantages: does not work with fiat currencies.
BitMEX is a platform for peer-to-peer (P2P) trading. The platform was founded by crypto enthusiasts, experts in finance, web development and high-frequency algorithmic trading. The platform and its mobile version belong to the company HDR Global Trading Limited, registered in the Republic of Seychelles.
The site provides a comprehensive API, all the necessary tools for profitable trading and detailed materials for self-study.
SimpleFX
Website: simplefx.com
Leverage: up to 1:500.
Supported cryptocurrencies: 10 trading pairs from FCS, ETH, ETC, LTS and XRP.
Terminal: MetaTrader 4.
Commission: there is no trading commission.
Trading time: 24 to 7 and 365 days a year.
Advantages: profitable affiliate program.
Disadvantages: a relatively small number of cryptocurrencies are represented.
SimpleFX is a reliable online trading service provider registered in the UK. The company strives to provide the simplest possible conditions for trading. To do this, we offer a huge selection of trading tools that can be used from a PC or smartphone.
The minimum and maximum deposit sizes are not limited here. Traders can also count on fast execution of orders and their automatic execution, according to a given scenario, as well as protection from a negative balance.
Maxitrade
Website: maxitrade.com
Leverage: 1:200.
Supported cryptocurrencies: over 500 coins, including Bitcoin, Etherium, Ripple, Monaro, Bitcoin Cash, Litecoin, Z cash, NEO, Altcoin Index, EOS.
Terminal: MT4 web-terminal, MetaTrader 4.
Commission: absent.
Trading time: European.
Advantages: impeccable reputation, multi-stage loyalty program for traders.
Disadvantages: lack of transparency, unregulated broker.
Maxitrade is an innovative cryptocurrency broker that provides convenient and technological services for working on global financial markets.
The service is managed by the Maxi Services holding, which has been on the market for more than 10 years, registered and managed by the British SVGFSA. In Russia, the company's activities are regulated by the Central Bank of the Russian Federation. The licenses can be found on the official website.
The crypto broker allows you to open several types of accounts, including the ability to open a demo account. Depending on the type of account being opened, the company's clients can also count on a bonus deposit increase of 50% to 150%.
LH-Crypto
Website: lh-crypto.biz
Leverage: 1:500.
Supported cryptocurrencies: Bitcoin, Etherium, Litecoin and others.
Terminal: METATRADER 5, WEB TERMINAL, MT5 MOBILE.
Commission: absent.
Trading time: Asian session.
Advantages: high leverage.
Disadvantages: little work experience.
LH-CRYPTO is a relatively new brokerage company that was launched only in 2018. Its ICO was held a year earlier, more than 12,000 investors participated in it. The project is being developed and administered with the support of the popular broker Larson & Holz, which has been operating in the CFD contracts market since 2004.
The company does not manage funds, but provides a convenient service with which novice traders can easily conclude profitable trade deals thanks to properly configured software.
Weltrade
Website: weltrade.com.ua
Leverage: 1:200.
Supported cryptocurrencies: 15 trading pairs, the most popular of which are BTC, ETH, LTC, XMR/USD.
Terminal: MetaTrader 4.
Commission: trade commission 0.5%.
Trading time: 00:00-24:00 EST.
Advantages: Withdrawal requests are processed within 30 minutes at any time, every day.
Disadvantages: a commission is charged for each transaction.
WELTRADE consists of 65 professionals with extensive experience in the financial market. For more than twelve years of experience, this regulated broker has managed to attract more than 100,000 traders from 18 countries to its clients and has been awarded prestigious awards.
The broker provides its clients with more than 80 tools for market analysis, bonuses for each deposit up to $ 1,000 and a savings program with which you can put your savings in a reliable vault and earn up to 12% per annum on this.
NordFX
Website: nordfx.com
Leverage: up to 1:1000.
Supported cryptocurrencies: 13 top cryptocurrencies.
Terminal: MetaTrader 4, Multiterminal, MetaTrader 5.
Commission: from 0.02% to 0.09%.
Trading time: unlimited.
Advantages: a company with a history and reputation, high leverage.
Disadvantages: the main focus is on trading familiar assets.
NordFX is an international brokerage company founded back in 2008 and represented in more than 100 countries around the world. In 2017, the broker expanded its field of activity and added cryptocurrencies to traditional pairs with precious metals.
Roboforex
Website: roboforex.com
Leverage: up to 1:50.
Supported cryptocurrencies: more than 26.
Terminal: MetaTrader 4, MetaTrader 5, and R Trader.
Commission: 0%.
Trading time: 24/7.
Advantages: advanced trading tools and the ability to choose among several terminals.
Disadvantages: small leverage.
Roboforex has been engaged in crypto trading since 2016. Today, with the help of the platform, you can trade all popular cryptocurrencies by using the classic MetaTrader 4 terminal, the "advanced" MetaTrader 5 or the new generation web platform R Trader.
In total, the broker provides about 30 tools for technical analysis of cryptocurrency assets and several types of accounts. To open a standard account, you will need to make a deposit of at least $ 10, while the spread will start from 1.3 points.
If you trade with RoboForex, you also get protection from a negative balance and the ability to store funds in the accounts of the largest banks.
Instaforex
Website: instaforex.com
Leverage: from 1:1 to 1:1000.
Supported cryptocurrencies: only Bitcoin and Ethereum.
Terminal: MetaTrader 4.
Trading time: unlimited.
Advantages: +30% on each deposit.
Disadvantages: ambiguous reputation.
The broker started its work in 2007. Over the years of its existence, it has gathered a client base of more than 7 million traders, but also earned an ambiguous reputation. Nevertheless, among the negative comments there are also those that inspire confidence in the company.
The company provides over 100 trading instruments and accurate quotes containing 4 decimal places.
How to choose a broker?

The brokerage company is your partner in trading cryptocurrencies. It is very important not to make a mistake with the choice and start cooperation with a high-quality platform that can provide a high level of security and profitability of transactions.
It is recommended to start choosing a broker by studying reviews and "blacklists". There are a lot of scammers in the cryptocurrency sphere, and if you are "lucky enough" to get to a "black" broker, then you will not get anything in return for the money written off.
When choosing a broker, you should pay attention to several important criteria:
Trading time. Not all brokers allow trading around the clock. Sometimes the time may be limited to weekdays or specific hours.
The presence of Short positions. The cryptocurrency market is highly volatile. The value of coins can change significantly several times a day, so the trading platform must necessarily provide an opportunity to open short positions.
Commissions. Net profit is the amount earned, taking into account the deduction of commission. It is necessary to take into account the commission for the deposit / withdrawal of funds, trading and servicing of leverage.
Insurance. A good broker will definitely offer traders protection from a negative balance and insurance.
Forecasting and training. Of course, it is not worth risking money just on the basis of advice alone, but it will be very useful for novice traders to get acquainted with the opinion and experience of professionals.
It is quite difficult for a beginner to choose his broker from thousands of companies and not fall into the hands of scammers. That is why the material contains a list of the best brokers with a proven reputation.
Choosing a market leader who is trusted by hundreds of thousands of other traders, you will definitely not make a mistake.
How to make money through a broker?

Trading through a broker is not much different from trading on the stock exchange. Necessary:
Register on the broker's website.
Install a trading terminal from the broker's official website.
Top up your account.
To make transactions by selling cryptocurrencies more expensive than they were bought.
It is important for a trader to learn to understand the charts, indicators and quotes that the terminal will provide him with. It may take some time. You can practice making transactions and working with the terminal by opening a demo account. This service is provided by most companies.
How much can you earn?

A trader's earnings depend on the amount of his trading capital and the ability to manage it. The price of coins can rise and fall sharply by tens of percent. It is important to catch the right moment and make a good deal.
It is worth noting that, thanks to brokers, namely, high leverage and minimal spreads, you can earn good money even with minimal deposits. For example, if under normal circumstances, relying only on their capital, a trader could earn only 10 USD, then with a leverage of 1:100, earnings can be 100 USD.
Advantages of trading through brokers
If we compare trading through a broker with trading on a regular stock exchange, we can distinguish several advantages in favor of the former:
high level of transaction security;
the presence of a single trading platform that allows you to trade many assets at once;
the ability to reduce the size of the start-up capital without sacrificing profit, thanks to leverage;
advanced trading tools for deep technical analysis of an asset;
support and training.
In simple words, a cryptocurrency broker is a company that will help you enter the world of crypto trading with minimal risks and investments, teach trading and insure against a minus.
This is an attractive solution both for beginners who need support and training materials, and for professional traders interested in tools for market analysis. In addition, cooperation with brokers is often accompanied by additional bonuses, for example, an increase in the deposit and additional earnings on loyalty programs.
Want to be the first to receive unique and important information?
Bookmark us!
Subscribe to our projects!