Steroid Trading bot: review and reviews 2023: SCAM!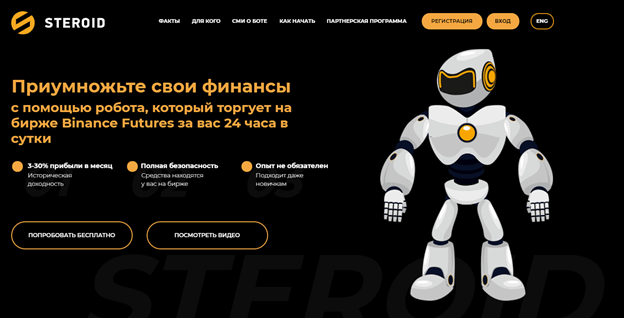 Overview
Cryptocurrency market capitalization is on the rise, with more and more people trying to learn how to make money in cryptocurrency trading. This is all fine, but scores of poor quality investment instruments aimed mainly at newcomers keep appearing in the market all the time.
That is why we decided to give you an overview of one of the highest quality automatic and semi-automatic trading services. By studying it you will be able not only to discover a new way to earn money, but also to understand what criteria you should pay attention to in such cases.
Important update, the trading bot has announced a temporary suspension from 03.16.2022 for just 2 months! The article was updated in February 2023 and the trading bot is still NOT available! In this regard, we do not recommend using this site, as a SCAM is possible!
We were keen to analyze this service because it is one of the most well-known platforms with a three-year history and a lot of positive feedback.
Very few public products survive in this niche for more than a year, because of a high percentage of fraud, that's why a long period of work is the most important evaluation factor.
Another advantage of this service is that there are no subscriptions or prepayments, "the bot gets paid from your profits".
In order for the bot to work, you will need to charge up your balance on the website, and the bot will write off 30% from your balance from the amount of profit each time you have a positive transaction. And, importantly, in case of a losing trade, the platform will reimburse 30% of the loss to your bonus account for trading.
It's very important that working with the service is as simple as it can be, and does not require any knowledge or understanding of cryptocurrencies, because everything is done in automated mode, so this tool suits novice investors very well.
The yield is not very high for the cryptocurrency industry, from 3 to 30% a month, but it is stable. If you have previously worked with stock or equity market, you will be very happy with the tool's profitability.
The main advantages of Steroid service
Operating history since 2018
Ability to work with a virtual account
A large number of positive reviews and feedback
Works on both rising and falling markets
Market analysis in automatic mode for the correct entry into transactions
Finds the best exit point from a transaction by itself
Protection against high volatility and leaps in the crypto market
Your money is kept on the balance of the exchange, and platform administrators have no access to it
No special expertise needed, suitable for beginners
Steroid.one: registration and getting started
Follow the link and complete a simple registration process to create an account at the service:
Specify your email
Enter your password twice
Confirm your registration.
You will receive an email looking as the one in the screenshot. Click on "confirm registration".
Main settings
Now we are going to show you STEROID Settings section and what you need to do to make the service convenient.
Setting up 2FA (two-factor authentication) in Steroid service.
We strongly recommend that you use two-factor authentication (2FA). It provides a better protection of your account from unauthorized access.
When logging into your personal account, you will need to enter a 6-digit code along with your password.
To activate your 2FA:
Install an application generating two-step authentication codes, such as Google Authenticator, on your smart phone.
Click "Enable" button.
Enter your account password.
Open the application on your phone, click "plus" in the top right corner (adding account) and scan the QR code that Steroid gave you or enter the code manually.
Write down the secret key on a piece of paper, and hide it where only you can find it. You may need it to recover a lost 2FA.
Enter the code that appears on the phone screen and press "Confirm".
time. So if you have already entered it and you need to enter 2FA code once more for some reason, wait for the new code to be generated, otherwise you will get an error message.
Additional settings
Choose the time zone that is convenient for you. It affects the time displayed in purchases and sales, which is specified in the "List of transactions" page.
Steroid bot will send you notifications about all the opened and closed transactions, closing of bots and other things. This will help you monitor the work of the bots in a more convenient format.
This is what you need to do to connect a telegram bot to your account:
Go to: https://t.me/SteroidOneBot or type SteroidOneBot in SteroidOneBot telegram search box
Click "Start".
Copy the received code
Insert it into the field and press "Connect".
Connecting Binance Futures to STEROID
You will need to create API keys at Binance to connect Binance Futures to Steroid.
Log in to your account or create a new one at https://www.binance.com/. An active futures account is required.
If you have not activated it yet, you need to open the futures account:
1. After logging into your Binance account, go to "API Management" in the account menu that opens up. Go to API management page, set API key (API name) and click "Create".
*Security reminder: You need to enable the two-factor verification before creating an API.
2. Enter your Google Authenticator authentication code or SMS to confirm the creation of API key for your account.
3. Once you are authenticated, the system will send a confirmation email to your email. Please click "Confirm Create" to confirm your new API.
4. Click "Confirm Create".
5. Keep your secret key in a safe place, as it will not be shown again. Keep in mind that the key cannot be shared with anyone for security reasons. (If you ever forget your Secret Key, we will not be able to recover it. The only solution is to delete the API and create a new one.)
Editing API key
Follow the link https://www.binance.com/en/my/settings/api-management
1. Click "Edit Restrictions" on your newly created API.
2. Check "Include Futures" box.
3. Save
The key is ready to connect. Do not change any other settings.
To check if you have configured everything correctly:
Open STEROID personal cabinet https://dashboard.steroid.one/ in another browser tab (you need to log in to the service).
You will get to exchange access settings section where you need to specify API keys of Binance Futures exchange, which you have prepared as instructed above.
Go to the exchange and copy the keys, then paste in STEROID fields:
API key = API key, API Secret = Secret key, and click "Save".
If the connection was successful, it will be displayed in the table of exchanges, and you will see the balance of the exchange in BTC and US dollars in the upper right corner:
Congratulations, the exchange has been connected to STEROID, you can start the actual work now.
Steroid.one: reviews and earnings cases of 2021
Our editorial staff contacted a number of project investors; some of them agreed to help us with this article and shared their experience with Steroid.
Their cases are published here with minimal editing.
Case No. 1
May 2020 - May 2021
Revenue: $5349
I've been working with Steroid bot for more than a year now and I want to share my work history, which gave me more than +113% during that time.
Last spring, in April, before I started real trading, I ran the bot with virtual funds to test how it works.
After making sure that the bot performed well enough, I decided to try trading in real money (my first deposit was $200). The bot earned me almost 20% in 3 days of fully autonomous work.
However, the bot only allowed to set the maximum take profit at 20%, upon reaching which it closed the transaction completely.
Anyway, I decided to try long term trading, planning for 6 months at first, but then I decided to continue. During that time, there were temporary drawdowns (going into the red), but the bot has always climbed into the positive over time.
This is one of the bots that went in arrears, but over a period of time it worked it all out and closed in the plus.
My trading history is shown below:
As a result, I managed to earn $ 5349, using different deposits. If I had deposited one amount all over that time, that would make +113% per year in percentage terms - which is a very good result).
What I realized during that entire period of trade is: don't worry if the bot goes temporarily into the minus - you need to wait and give it an opportunity to level it out.
Steroid does not get any commission within the accrued bonus. Well, you need to focus on the long run to make a good profit. In short, I still work with the system.
Case number 2.
How I earned 50% in 120 days on a deposit of $1,000.
I learned about Steroid bot in November and decided to try and run for $1,000 right away, but the system didn't allow me to set the profit over 20%, which of course didn't suit me and I wrote to the support: "Why doesn't the bot let me set the profit over 20%?". They replied that they limited it on purpose, to protect users from unnecessary losses.
 I insistently asked to increase the profit to 100% saying that I was ready to lose my money.
Finally, I got the permit and ran the bot. As a result, I carried out an experiment that brought me another $1,000.
Pitifully, the service commission for profitable transactions is 50% (I wonder when they will lower it down), so the net result was $500.
There were times when I wanted to stop trading immediately, even wrote to the support, even blew their brains out, but they always answered me in their usual way: trade long term and you will ultimately be the gainer.
Well, if I decided, I will go all the way. I don't want to write any more, let me share some screenshots. I continue trading with the same $1,000.
Case No. 3.
+50% in 73 days (bot's earnings +100%, - 50% commission on income) - this is the bomb!
My friends told me about Steroid back in November, I was hesitant first, but in December I finally decided to try and trade with $500. The result has surpassed my expectations: I managed to make +100% in 73 days.
Friends warned me that I could run into temporary drawdowns and failed transactions, but overall my trading turned out really good.
Case No. 4
+25% in 61 days.
A friend once sent me a referral link in January with a code giving me $20. Well, I decided to try and then – boom! – it was minus 16.76% in the first transaction!
To say that I was angry would be a considerable understatement. I deposited $3400 in that transaction, and it was my first experience.
My friend and the support assured me that it happens and it's normal, being a part of strategy (but the risk is still there), and it should recover over time.
Recovery took a few days and then I was again in the red, but, just because I saw the recovery, - I decided to wait.
The bot has earned 50% by itself, but because the service commission was 50%, in fact I earned 25%, and that was for 2 months. I am basically satisfied, but of course the commission could be lower. Well, you can see the result in the screenshots.
Summary: Steroid.one platform - scam or not?
On a final note, we want to say that Steroid is a really worthy product. There are few recommendable competitors to Steroid service in the market able to work consistently for as long as three years.
The project has a long operation history, provides a high and stable income and can boast of a large number of regular users. It is ideal for both new and experienced investors.
If you want to have a source of additional income, but don't know much about cryptocurrencies yet, STEROID platform can be a good place to start.
Want to be the first to receive unique and important information?
Bookmark us!
Subscribe to our projects!