How to buy Ethereum Classic (ETC): the best exchanges. Where and how to store it?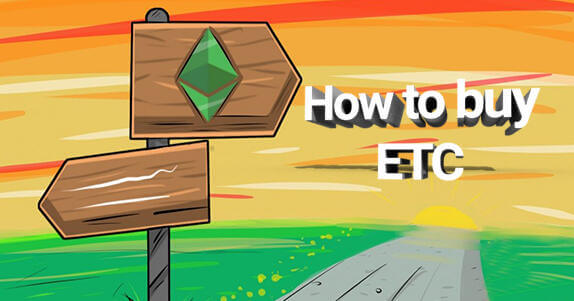 Ethereum Classic has many advantages, because of which many choose this coin for mining and Hold. This is primarily stability, stability in the market and high liquidity.
In this article, we will analyze how to buy Ethereum Classic (ETC) on various platforms, and where it is better to store coins.
Quick instructions for buying Ethereum Classic (ETC) on Binance
Binance is a reliable platform that allows you to quickly buy and sell cryptocurrencies. You can buy Ethereum Classic (ETC) on the exchange in the quick purchase section:
Sign up for Binance.
Go through KYC.
Go to the "Buy crypto" section. Select your preferred currency for payment (Fiat).
Specify the purchase amount (number of coins) and make the payment.
You can also buy cryptocurrency through the spot market.
Where to buy Ethereum Classic (ETC)?
You can buy Ethereum Classic (ETC) on a variety of cryptocurrency exchanges. You can pay for coins with both fiat money and cryptocurrencies.
A short list of the most popular and reliable exchanges:
Binance
If you are at least partially familiar with the world of cryptocurrencies, you have probably heard about Binance. At the moment, it is the leading crypto exchange in terms of trading volume. Binance has a section for spot, margin and P2P trading, there are futures and the ability to enter into OTC transactions.
The purchase of Ethereum Classic (ETC) on the trading platform is possible not only in the ways described above, but also in the trading terminal. On the exchange, the coin is represented in 10 trading pairs, including those with a leverage of up to x10.
To do this, make a deposit and go to the "Spot Trading" section, and then fill out a purchase order.
Payment methods: a variety of cryptocurrency trading pairs, bank cards, payment systems Advcash, Payeer and others.
Advantages:
the platform supports many trading formats;
there are about a dozen trading pairs with ETC with popular cryptocurrencies, such as ETH, BTC, USD, USDT, as well as a number of fiat currencies;
low commissions.
Disadvantages:
KYC is required for any work with the exchange.
Huobi
The Huobi exchange appeared even before the "boom" of cryptocurrencies in 2013. This is the most popular trading platform in the Asian market, which has gained good positions in Europe.
Huobi supports more than 300 cryptocurrencies, including Ethereum Classic.
The purchase of this coin is possible both in the exchange's trading terminal and in the quick purchase section for fiat. In the latter case, the transaction will require:
Register on the exchange by specifying your E-mail or mobile number in the form.
Go to the "Buy cryptocurrency" section and select the payment method by bank cards.
Use the drop-down menus in the form to select the desired exchange direction, and then enter the amount.
Click "Buy ETS" and verify your card.
Complete the card payment.
Ethereum Classic is presented on the exchange in the P2P Market section. Here, platform users can agree with each other to conclude a transaction on individual terms and pay in any way convenient for both of them.
Payment methods: more than 60 payment methods, including cryptocurrencies, Visa and MasterCard cards, payment systems.
Unfortunately, starting from 2022, you can buy ETC on Huobi only for cryptocurrency! Via: spot trading!
Advantages:
functionality;
multiple payment methods;
a section for fast and P2P trading.
Disadvantages:
payment from the card is available only after verification.
OKEx
The OKEx exchange provides an opportunity to trade on the spot market and with leverage. A section for quick coin purchase and P2P exchange is also presented on the platform. However, the Ethereum Classic cryptocurrency is not represented in them.
You can purchase this coin only in the trading terminal, where it is presented in 6 trading pairs at once with USD, BTC, E, OKB, USDK, USDC.
To purchase, you will need:
Create an account on the exchange by filling out a small registration form.
Top up the exchange account using one of the methods presented.
Select the basic trading section and use the search to find trading pairs with Ethereum Classic in it.
By clicking on the desired trading pair, place an order.
The platform supports five types of trading orders, from market to extended limits. The ETS coins will be credited to the exchange account immediately after the order is closed.
Payment methods: digital coins, bank cards, WISE transfers.
Advantages:
simple interface;
Ethereum Classic is supported in trading pairs with well-known coins and stablecoins;
support for various types of orders.
Disadvantages:
no Quick Purchase of Ethereum Classic;
when making a deposit or withdrawing funds in the national currency, you will definitely need to pass verification.
KuCoin
The Hong Kong cryptocurrency exchange KuCoin has 8 language interfaces and supports working with more than a dozen national currencies. The exchange has functionality for quick purchase of crypto for fiat money, but Ethereum Classic is not represented there.
The purchase of Ethereum Classic (ETC) on KuCoin is available in the trading terminal and for this you should:
Register on the platform.
Make a deposit to the exchange account. To replenish with fiat, you will have to pass a KYC check.
Go to the "Spot Trading" section and use the search to find trading pairs with ETC.
Place a purchase order by clicking on the desired trading pair.
In total, there are three trading pairs with a coin on the exchange: ETC/USDT; ETC/ETC; ETC/BTC.
Payment methods: Apple Pay, Advcash, PayPal, SEPA, Cryptocurrencies, Bank cards.
Advantages:
functionality;
support for multiple fiat and digital currencies;
low commissions;
user-friendly interface, translated into many languages.
Disadvantages:
some deposit and withdrawal methods require verification;
there is no instant purchase.
The best time to buy ETC
Ethereum Classic (ETC) is a relatively stable cryptocurrency, the value of which fluctuates within small limits. But before buying, we still recommend analyzing the market by studying:
cost change schedule;
news background around the project;
market trends.
You should purchase coins if the analysis has shown that their value is not currently overstated by an artificial pump or the hype that has arisen around the project.
Where to store Ethereum Classic (ETC)
Ethereum Classic holders have many options for storing their assets. In particular, the coin is supported by many well-known multi-currency wallets and has several official repositories.
Exchange wallets can also be used for storage, but this is not recommended due to the high vulnerability to hacker attacks.
The most secure option for storing Ethereum Classic can rightfully be called a Ledger hardware wallet. The size of this wallet does not exceed a USB flash drive, and for ease of use it is equipped with a small portable display.
With its help, the private key that gives access to coins is stored outside of network access, which provides maximum protection against any attacks.
Tips for safe purchase and storage
A novice cryptocurrency user can make a lot of mistakes that can later lead to theft or loss of funds. When working with cryptocurrency, be sure to adhere to the following rules:
Avoid questionable services. Trust your finances only to proven platforms with a good reputation.
Check the site addresses. Before entering any of your data, make sure that you are on the official website of the platform.
Choose a secure storage location. Cold storage wallets provide the greatest safety of assets.
Set complex passwords. A good password should have at least 8 characters and contain two registers.
Don't neglect two-factor authentication. This additional level of protection will help you save your savings even if the attackers somehow gained access to your account.
The Ethereum Classic cryptocurrency is one of the most controversial, but at the same time stable coins on the market. Several attacks have been made on the network over the entire history of its existence, and the network is clearly inferior to its updated version in terms of development. But at the same time, thousands of people still trust the coin, maintaining its high liquidity and value.
Want to be the first to receive unique and important information?
Bookmark us!
Subscribe to our projects!