How to become a cryptocurrency trader? Secrets and recommendations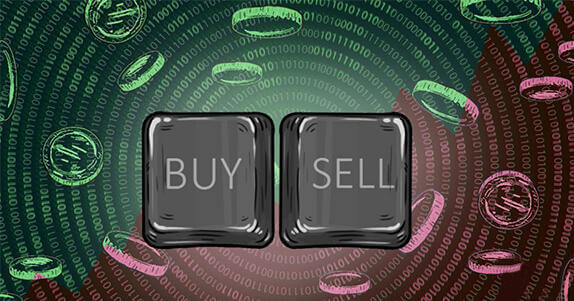 Trading on cryptocurrency exchanges is becoming increasingly popular, as digital assets still belong to the category of "new and unexplored" tools. If in Australia more than 70% of the population already have an idea of what a cryptocurrency is, then more than half of the population has only remotely heard about it.
Discovering new income opportunities for themselves, newcomers to cryptocurrency exchanges plunge headlong into trading without understanding its details. The result of such an approach is the same – they burn out, disappointed in the cryptocurrency as a profit-making mechanism. And often they also become a victim of scammers.
Of course, the basic rule of trading can be reduced to a banal one: "Buy cheaper, sell more expensive," but the question is how to find out when the value of the cryptocurrency is falling and when it is growing. You will need to learn the basics of trading, because one of the main rules of an investor says: "Don't go there, what you don't understand."
To become a cryptocurrency trader, you need the following:
Select the exchange that you will use for trading.
Choose the cryptocurrency pairs that you are going to trade.
To analyze the selected cryptocurrencies, to study the charts of growth and fall of their value, as well as to study the current situation on the market.
Delve into trading tools and strategies to increase trading efficiency.
Let's look at the items in more detail.
Choosing a cryptocurrency exchange for trading
By analogy with stock exchanges, cryptocurrency trading is carried out on specialized platforms – cryptocurrency exchanges. According to the website Coinmarketcap.com there are more than 220 cryptocurrency trading platforms, but in fact there are many more. When choosing, you should pay attention to the following criteria:
reliability of the cryptocurrency exchange;
simplicity of the interface;
the need for verification;
features of deposit and withdrawal of funds;
supported cryptocurrency pairs.
The choice of a cryptocurrency exchange can even be called individual in a sense, since everything depends on how convenient the interface and the features of work are for you personally.
For example, the Binance cryptocurrency exchange occupies the top place in the Coinmarketcap rating in terms of daily trading volumes. It is a good solution for beginners, considering that it is quite easy to register, and more than 200 currency pairs are offered for trading.
Of course, there are also disadvantages against the background of the pros. The exchange does not support fiat money, so you will have to replenish it through other cryptocurrency accounts or exchangers. Someone such difficulties can scare away.
Choosing cryptocurrency pairs for trading
Returning to the site Coinmarketcap.com , today there are more than 2,000 cryptocurrencies, so it is clear that all of them will not be used in trading. It is necessary to select the most promising pairs. And there are a number of secrets here.
Beginners should choose pairs that include cryptocurrency and fiat currency or stablecoin (stablecoins are cryptocurrencies whose value is supported by fiat, precious metals, etc.). Accordingly, the exchange rate of fiat currency or stablecoin is more or less stable, so it is easier to conduct analytics. Popular options for beginners are BTC/USD, ETH/USDT, etc.
How to become a trader
In addition, the currency pair should be actively traded on the market so that the trader can make an instant purchase or sale transaction without wasting time.
The importance of having a large amount of supply and demand is also explained by the resistance to high rates. Major players do not have a serious impact on the value of cryptocurrencies that are actively traded on the market, which is not to say about those altcoins that have an order of magnitude fewer offers.
In addition, remember that trading is always a risk, like any type of investment, so it is recommended to start with small amounts.
Studying the market situation and cryptocurrency charts
Of course, it will not be possible to accurately predict when a particular cryptocurrency is falling and when it is growing, but it is necessary to study the general dynamics of the market in order to understand what events can lead to a fall or, conversely, the growth of the cryptocurrency.
The first category includes all kinds of legislative prohibitions and restrictions, the collapse of the stock market, as well as the fall in the Bitcoin exchange rate, which can be followed by other cryptocurrencies. The increase in cost may be caused, on the contrary, by legislative approval, various agreements, an update of the platform, etc. Therefore, traders need to be aware of cryptocurrency news, and it will be better to view English-language sources.
Charts of changes in the value of specific cryptocurrencies can be associated with certain events, understanding for yourself in which cases it is worth expecting a fall, and in which cases – growth.
Such work does not guarantee one hundred percent success, but knowledge in the industry and the ability to conduct analytics are very important for a trader. In addition, there are various strategies for both beginners and professional traders.
At the initial stages, it is recommended to buy cryptocurrency at the moment of approaching the minimum values or at the beginning of low growth, when the cost is significantly lower than the average. The sale is carried out when the exchange rate approaches the maximum values, but if there is an active growth, then there is a possibility of breaking through the maximum limits.
It is noted that on average traders earn about 100% profit per month, but for beginners this figure often does not exceed 50%.
Advantages of trading as an investment tool
Trading as an investment in the short term is beneficial from the point of view of possible profit in any scenario – whether it is a fall or an increase in value.
However, at the first stages, there is a high probability of losing money, so it is recommended to study on small amounts. It is also important to develop yourself professionally, namely, to read specialized literature, listen to expert opinions, study all kinds of strategies, because you can become a successful trader only if you have a professional approach.
Amateurs lose money very quickly and get disappointed.
Want to be the first to receive unique and important information?
Bookmark us!
Subscribe to our projects!