SecuX V20 Hardware Wallet Review: How to buy and configure? Security [pros and cons]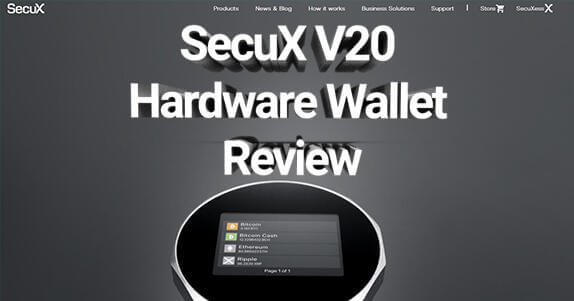 The world of cryptocurrencies is actively developing, more and more new people are learning about them. Most of the newcomers who enter this market for the first time, most often do not understand how and where to securely store cryptocurrency.
There are many ways to store cryptocurrency:
Official Wallet
Multi-currency wallet
Hardware Wallet
Exchange
In this review, we will talk about one of the most reliable ways to store cryptocurrencies – a hardware wallet. We will talk about a specific hardware wallet - SecuX V20.
As a bonus for our readers, you can get a 10%-15% discount on your order using a promo code!
SecuX V20 and W20 wallets - 15% discount with promo code - "bytwork".
SecuX W10 wallet - 10% discount with promo code "bytworkw10"
SecuX Store: https://shop.secuxtech.com/
What is SecuX V20
SecuX V20 - this is the flagship hardware wallet from SecuX, which is a relative newcomer to the cryptocurrency market: it was created in 2018.
The device has a large color touchscreen display, a battery for offline/offline operation, and communicates with the host via USB or Bluetooth.
The wallet is equipped with an Infineon secure element chip, certified CC EAL5+. Externally, the wallet looks nice, somewhat resembles a flattened hockey puck.
SecuX V20 Overview
SecuX V20 is elegant, durable and, most importantly, a convenient hardware wallet. The V20 is very similar to the company's other model, the W20, but has a premium metal body.
This gives it a value that can be appreciated by experienced users who own large amounts.
But is it really worth the extra money compared to the W20?
SecuX V20 is a hardware wallet that supports many major cryptocurrencies and thousands of Ethereum-based tokens. This is the top version of the offers of the Taiwanese manufacturer SecuX.
Other SecuX models are the W20 and W10.
Important! SecuX supports more than 1000 cryptocurrencies. The use of this company's products provides security, flexibility and ease of wallet backup using hierarchical determinism (HD) capabilities.
The SecuX V20 hardware wallet model provides secure cold storage by creating and storing your wallet's private keys offline. To do this, a special security chip is used to keep your private keys safe. More on this later.
It can also be integrated with third-party wallets to manage ERC-20 tokens.
The release of SecuX V20 has shown that it has become the flagship premium product of SecuX.
Read more about the characteristics of the wallet on the official website!
Who should buy SecuX V20?
Users who need a Bluetooth-enabled hardware wallet
Users who have many different coins
Traders who frequently make trades
Price
While the basic W10 model can be bought for just $69, the SecuX V20 costs a bit more.
If you need the latest hardware from SecuX, you'll have to shell out $139.
The real question is: Is the increased price of the additional features that SecuX V20 offers worth it?
Let's find out! To do this, let's compare it with other hardware wallets.
SecuX V20 vs Ledger Nano X?
Ledger Nano X is one of the most popular hardware wallets on the market. What are its differences from SecuX V20?
The Nano S doesn't have a touchscreen, but the SecuX V20 does
The SecuX V20 power button is more ergonomic
The SecuX V20 case is much stronger
The SecuX V20 is much heavier and stronger.
Ledger Nano X has Bluetooth connectivity, but the cheaper Nano S leaves you completely tied to your computer via USB, so no mobile transactions with it are really possible.
Using your mobile device (with the SecuX app installed) is less cumbersome and more discrete if you make transactions with SecuX V20 on the go.
However, it is worth noting that with the Bluetooth function, there may be some additional risks. SecuX V20 users should be aware of these risks and make a decision weighing them in terms of convenience.
And, of course, you can always go back to using the USB-C cable if it's more convenient for you.
Package contents of SecuX V20
After you unscrew the protective seals and open the SecuX V20, you will find the device itself, a microfiber cloth bag, as well as a USB Type C cable.
The delivery package also includes:
Two sheets for recording Seed phrases
Getting started guide explaining how to update the device firmware, enable Bluetooth and solve a couple of common problems
SecuX V20 design
Externally, the V20 is made of polished aluminum. This gives the device an excellent appearance and great elasticity.
The touchscreen is responsive and does not slow down!
One SecuX V20 button is the power button - it is well designed, even emits a soft pleasant click!
Compared to the Ledger and Trezor devices, the V20 is much larger. It also seems to be more durable, as its aluminum body is more resistant to loads than the plastic of many other hardware wallets.
SecuX V20 Security
Considering that SecuX is a fairly young company, it uses some of the most advanced security technologies.
Let's talk about some of them:
CC EAL5 + Secure Element
All SecuX hardware wallets use the so-called security element. The chip shown below is the latest generation chip that is installed in SecuX V20:
SecuX hardware wallets use the Infineon SLE Solid Flash CC EAL5 + Secure Element chip manufactured by a German company.
Your PIN code and private keys are created on this device and are protected from all outsiders (intruders).
Read more about the protection technology on the official website!
PIN code
When you turn on SecuX V20 for the first time, you will need to set a 4-digit PIN code.
This PIN is similar to the PIN of a regular debit card when you use it at an ATM. A PIN code is required to access and control the device.
The fault tolerance inherent in the PIN code is that the device erases itself after entering the PIN code incorrectly: maximum of 5 attempts!
No one will be able to access your device by PIN-picking, which means stealing your funds!
Passphrase support
SecuX V20 now includes support for a passphrase (seed phrase), also known as 25-word protection.
That's why it's important:
Remember - anyone who owns your seed phrase can access your wallet and empty it.
Another reason is to create a "dummy account" on your device, which stores a small amount of funds. The fictitious account acts as a defense against the so-called "five-dollar key attack".
Important! A hidden wallet is one of the unique features of SecuX Crypto hardware wallets. This is the equivalent of a "secret pocket" hidden inside a wallet. This is an alternative function, and if you choose "Create a hidden Wallet", you will have to set a different PIN (4-8 digits), which should be different from your first PIN. Then the wallet will ask you to set a "passphrase" (from 1 to 99 characters) to set up a hidden wallet!
In other words, if you create a hidden wallet in your hardware wallet, you will have 2 sets of private keys. The first private key manages your original wallet accounts with a seed phrase, and the second private key manages your Hidden Wallet accounts with a seed phrase and a given passphrase.
Creating a new wallet
When you launch your new SecuX V20 device, you will be prompted to create a new wallet or import an existing one.
Creating a new wallet is quite simple. V20 will show you a Seed phrase of 24 words.
Then you need to rewrite each word of the Seed phrase. Each word will need to be confirmed (that you have rewritten it) so that the next word of the Seed phrase appears.
Be sure to save the Seed phrase in a safe place. Don't take pictures of her. It is best to rewrite it on paper, and hide it!
Connecting SecuX V20 to a computer
The easiest way to send and receive funds to the SecuX V20 hardware wallet is to use an online interface called SecuXcess.
Go to SecuXTech and click "Secuxess" at the top right.
A new window will open. Here you can choose how to connect the device: USB or Bluetooth. You will need to enter a one-time password that will be displayed on the device.
Once this is done, you will be taken to the wallet homepage.
You will be able to view your account balances, as well as send or receive coins in your wallet.
Please note that Chrome and Opera are the only two browsers currently supported by SecuX.
SecuX Coins Supported
SecuX wallets currently support over 1,000 coins and all ERC20 tokens.
SecuX supports Bitcoin, XRP, Litecoin, Ethereum (and all ERC-20 tokens), as well as all the most popular coins, including:
Bitcoin Cash
Stellar
Litecoin
Tether
Doge
Binance Coin
Dash
Which OS does SecuX support?
Android
IOS
OS X
Windows
Linux
Conclusion
SecuX V20 is a great hardware wallet.
In addition, the touch screen and various connectivity options are its advantage.
Storing your keys offline with a SecuX hardware wallet is an excellent protection to ensure the security of your coins.
Pros:
2.8-inch touch screen
Bluetooth
Improved display
Support for multiple signatures and passphrases
The device timeout expires after a period of inactivity
Cons:
Higher price than other companies/models
Simple interface
As a bonus for our readers, you can get a 10%-15% discount on your order using a promo code!
SecuX V20 and W20 wallets - 15% discount with promotional code - "bytwork".
SecuX W10 wallet - 10% discount with promotional code "bytworkw10"
Shop SecuX: https://shop.secuxtech.com/
Want to be the first to receive unique and important information?
Bookmark us!
Subscribe to our projects!