How to Secure Your Crypto Investments? Secure storage of cryptocurrencies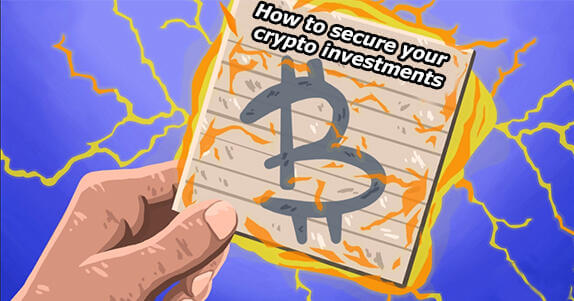 This is the second part of the article, where we will tell you how to secure your crypto investments as much as possible. In the first part, it was about protecting your funds on the stock exchange – useful tips on how to secure the cryptocurrency as much as possible by keeping it on exchanges.
In this article, we will tell you why it is not worth keeping coins on the exchange, how to secure your assets as much as possible, where it is best to store your assets, and much more.
The exchange is not the best option for HODL cryptocurrencies
Why is it not worth storing coins on the exchange? I only have a couple thousand in Bitcoin, why would I bother with wallets? Wallets are too complicated, I'd rather keep everything on a reliable exchange!
All this can often be heard from beginners, and even from experienced traders and miners.
We will name the reasons why it is undesirable to store cryptocurrencies on the exchange, they are related to the fact that:
Exchanges deceive users
Exchanges are "allegedly going bankrupt"
Exchanges are closing
And then you can list for a very long time. There are a lot of examples of hacking exchanges in the history of cryptocurrencies. Users of these exchanges lost everything honestly mining or purchased, or lost a certain part (those coins that were stolen).
Isn't this already a reason to think about whether it's worth keeping coins there? Does it not come to the realization that, in fact, the coins are "not mine", and that at any moment the exchange can be hacked?
There were also cases when exchanges simply closed with all the users' money.
And on this topic, too, you can talk for a long time, just ask yourself a question:
"Are you ready to put your money on the exchange and keep it there, realizing that even the most reliable exchange can be robbed, or unscrupulous owners will close it themselves with all the coins?"
There are a lot of risks, so even if you bought Bitcoin, Ethereum, or any other cryptocurrency for a very small amount, then the most reliable option for storing it is not on the exchange, but on a wallet!
Of course, few people will want to synchronize a Bitcoin wallet for the sake of reliable coin storage for only $ 50 - $ 200, spend a couple of days and a lot of free disk space.
Therefore, if you are not ready to do this, then read the first part of this article in order to secure your assets on the stock exchange as much as possible.
Well, if you are still thinking that it is not safe to keep cryptocurrency on the stock exchange, then read this guide, in which we will tell you what you need to do in order to fully secure your assets and "sleep peacefully".
Wallets
So, we have made sure that exchanges are the latest option for long-term storage of cryptocurrencies. So where do I keep the coins then?
The most reliable method of storing coins is official cold wallets! But only official ones, since multi-currency ones are the same risk as exchanges. They belong to one independent person, who at any moment, if he wants, will be able to take all the funds that are stored on this wallet.
Hardware wallets are in second place. They are considered quite reliable, but have several disadvantages:
In fact, this is a flash drive, and it can accidentally crash, break, and so on
Breakdowns are everywhere. Although small, but there is a chance for it
Online wallets can be placed in the last place. This type of wallet is less reliable. Online wallets are websites, which means they can be hacked and all coins stolen.
Mobile wallets, we will not consider at all, as well as browser-based ones. There have been many cases (except for official ones from large coins) when such wallets stole all coins and all user data. Plus, there were cases when mobile wallets were removed from the App Store and Google Play and there were even fake, fake applications that posed as the original.
So, the most reliable and best option is cold wallets. Now we need to figure out where they should be stored and where not.
Where to store wallets?
First of all, remember one important rule: never keep wallets together with manners on the same PC! Even if you still have a lot of free disk space, don't keep your wallets there!
Miners, even the most famous and reliable, will still very often show viruses if they are checked through virustotal.
Yes, the most famous and reliable will not steal anything, but think about it: what if they decide that the cryptocurrency is unprofitable (or just want more money) and these viruses that virustotal showed will turn out to be real threats. Then it will not be difficult for them to steal all the data that you have on your hard drive, and if there are wallets there, then steal their private keys.
The second option, where you should not store wallets– is a personal computer. You should not keep wallets here for the same reason: even if you are an experienced user, there is a chance, albeit small, that you will catch a virus and it will steal private keys.
Therefore, storing wallets on your work computer is entirely at your own risk!
So what should we do then? Where to store coins, you ask? We, the whole Bytwork team, believe that the best and most reliable way to store coins is to build a separate computer (safe), where your coins will be stored separately "from the whole world". This option is the most reliable in the conditions of crypto winter. Even better, if you disconnect this computer from the Internet, and it will always be offline.
If you have an old computer, then it will also work, the main thing is to reinstall Windows with full formatting of ALL files so that the hard disk is empty, or buy a new HDD.
You will say: "No, it's expensive, why would I spend extra money, especially when the cryptocurrency is not growing anyway." But think about it: Are you really ready to save money on assembling the most budget computer (this one will do) and neglect security?
For the assembly of such a PC, everything is suitable from BU or Aliexpress (except the hard disk), the cheapest processor is suitable (starting with core to duo, memory from DDR2, the cheapest motherboard, a "plug" video card or Used, or the cheapest, for example, Radeon HD 5450), the only thing you should not save on is HDD - take 1 TB and with the best reviews.
Such a PC safe will cost you only 7-10 thousand rubles, you can assemble it cheaper. It won't sync everything instantly, but believe me, it won't be much slower than the same computer with Core i5.
The only thing you can add a little more money for is RAM, an extra die won't hurt. We tested a "safe" with 4 GB of RAM when synchronizing wallets, the memory always showed 100%. Therefore, 4 GB is the minimum you need.
Be sure to have 1-2 more completely clean flash drives, with a volume of at least 512 MB, in order to save all private keys there, since the HDD may break, it is best to keep the keys on different media so that you can restore your cryptocurrency without any problems.
With such a safe, you will be sure that your cryptocurrency is securely protected.
Let's move on. Let's assume that you already have such a computer. Now pay attention to the following points, which should definitely be taken into account:
Install an antivirus
Do not install third-party applications (especially with "Cracked")
If possible, do not install teamviewer and other similar applications
Simply put, try to keep your PC clean, only with installed wallets.
Also, for maximum security, after full synchronization and with private keys thrown over, you can disconnect your PC from the Internet (or turn it off altogether) and run it 1-2 times a month to synchronize what has accumulated during this time.
How to combine wallets correctly?
On 1 hard drive, keep wallets of only verified cryptocurrencies:
Bitcoin
Ethereum
Monroe
Zcash
Litecoin
As well as other reliable cryptocurrencies (roughly speaking, these are many coins from the top 20-50, in rare cases higher).
It is better to keep the remaining coins on a separate hard drive. This is due to the fact that in the entire history of cryptocurrencies, coins have been created more than once, the purpose of which was to steal with the help of their software (wallets and their own miners) the private keys of other wallets.
Therefore, keep all altcoins of a dubious nature on separate hard drives, with a separate OS
For example, you own the following cryptocurrencies: Ethereum, Monero, Dogecoin, Firo, NFTX, Fusion.
In this case, store on 1 hard drive: Ethereum, Monero and Dogecoin. And on a separate one: Firo, NFTX and Fusion.
This is due to the fact that these projects do not really inspire confidence, although TrezarCoin is in many online calculators, it is still a coin for the most part a scam.
FAQ
We have often heard the following questions about cryptocurrency wallets.
Is it worth mining to a wallet right away?
Yes, there are no problems in this. Safely mine coins directly into your wallet, especially if you are interested in long-term storage of investments.
Which is better SSD or HDD?
If you have a lot of different coins, then HDD is better, since a 1TB SSD will be very expensive, and in general, if you divide coins into scams and reliable ones, then 2 SSDs can cost you like buying a video card for mining.
Yes, the HDD will synchronize everything a little longer, but the price will be noticeably lower. Therefore, HDD wins by all indicators.
For which coins is a multi-currency wallet still suitable?
A multi-currency wallet is by no means suitable for reliable cryptocurrencies.
However, you can use it for "altos" especially for those who have:
Terrible Wallets
Unreliable wallets
This is the coin that you won't really worry about, but you definitely don't want to keep it on the stock exchange
In these cases, multicurrency wallets will definitely work, especially since many of them are considered much more reliable than wallets of dubious altos.
Conclusion
We hope this article has helped you to store cryptocurrency more securely. Write your questions and suggestions in the comments, we will definitely answer all your questions.
Want to be the first to receive unique and important information?
Bookmark us!
Subscribe to our projects!