What and how often breaks down in mining [video cards and components]? How much money can you lose?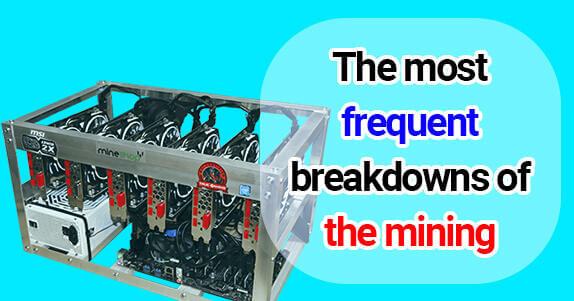 In this article, we will talk about what breakdowns are often found in mining farms.
What kind of breakdowns have we had, our colleagues, and in general, what a novice miner will have to face!
Let's say right away that we will only talk about mechanical breakdowns.
Broken coolers
Let's start with the first and quite frequent breakdown, which unfortunately every 2 miner faces - these are broken coolers.
Unfortunately, they quite often (if you look at the scale of all types of video card breakdowns) fail when the mining farm is running 24/7.
Why is this happening? Well, there are quite a lot of reasons for this.
The first and most common reason is the cheap quality of the part, that is, the poor quality of the coolers themselves, which are installed by the manufacturer.
The second reason is when the owner of the video card puts the speed at 100% and keeps them so 24/7.
Naturally, not all video cards can withstand such a load and fail within one and a half to two years.
By the way, in one batch of video cards from the same manufacturer, some video cards can live with such a load for more than 3 years, and some fail very quickly.
The next reason is the drying of the oil. It is not immediately noticeable, but if the video cards are stopped (for example, for blowing dust) and the video cards are not active for 2 hours, then during this time the cooler will simply harden tightly and will not be able to spin anymore, well, or it will barely work.
Almost all video cards have disposable coolers and it will not be possible to replace the oil.
Of course, you can drill a hole yourself and carefully lubricate everything, but if you don't understand this, then just order new coolers from Aliexpress and replace them yourself, or give the video card to the workshop.
Example of broken coolers
Personally, we had breakdowns of coolers. And on pretty good video cards-Asus Strix.
We just ordered new coolers from Aliexpress and replaced them. After that, the video card worked perfectly.
The main thing is to check the size of the cooler of your video card, since you can order a cooler of a different size that will not fit into your video card, or the cooler will be noticeably smaller! One manufacturer, one line (for example, Asus Strix) can have different diameters of coolers!
Graphics chip dump
The next type of breakdowns is Graphics chip dump. This is the most terrible breakdown, after which the video card very often goes to the trash.
There are three main reasons why Graphics chip dump occurs:
High temperature of the video card during operation (over 85 (90) degrees Celsius
Mechanical damage (blows to the video card)
Factory defect.
The case of a factory defect is also not excluded – this is found even in the most popular manufacturers like ASUS or Gigabyte. Budget manufacturers of B-category brands such as "Inno3D" have this type of breakdowns more often (than the famous ones).
Example of Graphics chip dump
Our colleagues had a Graphics chip dump with one of their video cards. They warmed up the video card several times and it helped, it served faithfully for a couple of weeks and then everything was new. After about six months, the video card completely died.
Why didn't they hand it over under warranty, you ask?
They bought a used video card, and they had no guarantees for it. Therefore, buying Used video cards is a cat in a poke, but with careful study, you can really buy reliable and inexpensive video cards!
As you could understand, if you do not have a guarantee for a video card, such a breakdown can lead to the loss of a lot of money!
The Killer's Riser
The next type of breakdown is not exactly a breakdown as such, but it can lead to the death of the video card – this is the killer riser.
What is a reiser killer?
Why does the video card die after a regular riser, why does it burn out the chip?
Everything is very simple, there is an additional stabilizer on each riser, which serves to create a voltage of 3.3 volts.
What is the point?
When you insert the video card into the working riser (normal), we get the standard voltage. That is, the riser copes with its task perfectly.
But when we insert the video card into the killer riser, the stabilizer, which should give out 3.3 Volts, begins to give out 5 Volts, then sharply 30, then 3 again, and so on.
That is, this stabilizer simply burns the chip, after which it is no longer possible to restore the video card.
Therefore, always check every riser with a cheap video card - a "plug" video card, which is not a pity, any video card will do, even for$ 20, which will give a small load. Next, be sure to load this video card for a full check!
An example of a killer riser
In this way, we check each riser (with a cheap video card).
1 time, back in 2017, we came across a killer riser who killed the video card stub (for which we checked the riser).
Therefore, always check the riser with video cards that are not a pity.
We were able to return the "plug" video card under warranty :)
Burnout of risers
The next type of breakdown is ordinary risers (not killers), which simply burn out – they can not withstand the load, they are assembled from low-quality material.
Usually, with such a breakdown, the farm continues to work, but you should not wait, it is better to immediately turn off this video card and replace the riser.
PC Power Supplies
There are also a lot of reasons why they break down. One of the reasons is dust.
The power supply unit may burn out due to the abundance of dust. Dust will clog the fan blades on the power supply, it will work poorly and, accordingly, cool all the elements poorly.
Also, the power supply may fail due to voltage fluctuations. In general, there are a lot of reasons.
Example of broken PC power supplies
In our entire mining history, since 2016, only 1 power supply unit has broken. He completely burned down, but thanks to him, he saved the video cards – he didn't fry them. He cut down the whole farm and died quietly.
Therefore, check the temperature of the power supply, it should not be hot, if its temperature is high and you can't touch it, then something is wrong, most likely some kind of breakdown has happened.
Disconnect the farm, blow out the power supply and inspect it. Be sure to inspect for the presence of swollen capacitors.
Optimal temperatures in mining
Also check the temperatures of all components: hard drives, video card, CPU, power supply, and so on, through special programs:
MSI Afterburner, CPU-Z, AIDA, GPUz, and so on. Make sure that the entire farm works at optimal temperature indicators.
For the processor, this is a temperature of up to 50 degrees (if you mine it on it)
For the video card, it is advisable to keep the temperature up to 70 degrees, the lower the better.
For HDD - 35-45
For the power supply, it is about 50 degrees
Additional cooling
The next type of breakdown is a broken additional cooling:
We have replaced 2 floor fans since 2016. Therefore, keep in mind that due to such, though not significant damage, you can also incur additional costs!
Rare types of breakdowns
So, we have listed the most basic breakdowns, then we will briefly tell you what else you can fail because of which you can incur additional costs.
The first is hard drives that start to crumble and barely work.
Personally, we have SSDs since 2016. And not a single SSD has broken down yet.
Then the motherboard may break, which is also very rare.
In general, in this case, you should always be on the alert and not go into mining for the last money, since this type of activity can lead to additional expenses.
It may seem to you that all these are insignificant amounts…Just that, 15-20 dollars for a cooler, 5 dollars for a riser, just that.
But no, this is not so, each such failure increases the payback period of your farm. After all, now, when replacing the cooler, your farm is conditionally worth not $ 10,000 but$ 10,020 and with each breakdown the price will grow!
So be careful and keep an eye on your farms!
Want to be the first to receive unique and important information?
Bookmark us!
Subscribe to our projects!