Types of mining: how can I mine cryptocurrency? All existing methods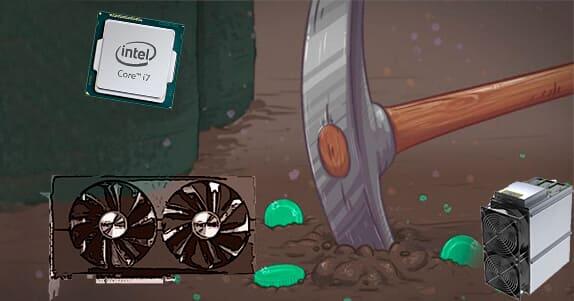 Most of you reading this article are aware of the various types of equipment that is used for cryptocurrency mining (video cards, processors, ASICs). But newcomers who are not familiar with this area and are interested in mining cryptocurrencies do not know where to start and how it works.
If you are a beginner and are wondering how to mine cryptocurrency or are looking for various options for mining cryptocurrency, then this article is for you. In this article, we will talk a little about cryptocurrency mining, and then explain in detail the differences between different types of cryptocurrency mining, as well as reveal their pros and cons.
Types of mining: quick response
Currently, there are a huge number of different types of cryptocurrency mining. The most common types of mining:
On video cards (farms on GPU)
On Asics (special equipment)
Mining on the processor (CPU)
Mining on hard drives (HDD/SSD)
cloud mining
mobile mining
POS mining
We will talk about all types of mining in more detail later in the article.
Various Types of Equipment Used in cryptocurrency mining
Each coin uses a certain mining algorithm, and each of these algorithms can only be mined using certain equipment.
For example:
Bitcoin uses the SHA256 hashing algorithm, so it can only be mined using ASIC SHA256.
Ethereum - mining on video cards (but Asics are also available)
Litecoin uses a Script algorithm, so it can only be mined using BASIC Script.
Ravencoin - mining only on video cards
Monero - mining on Dash processors (CPU)
uses the X11 algorithm, which again requires an X11 ASIC.
Cash uses the Equihash PoW algorithm, which was previously mined using graphics cards (GPUs). But currently, it is possible to make a profit from mining Cash (ZEC) only with the help of Asics.
What is an ASIC? An ASIC (Application Specific Integrated Circuit) is a machine that is designed to mine a specific algorithm, and they are only good at that.
You will not make a profit if you mine ASIC coins using GPU or CPU. But don't worry, there are hundreds of other ASIC-resistant coins.
For example, Monero uses the RandomX Proof-Of-Work algorithm, which is optimized only for video cards and processors. But what if you don't have a GPU or any specific hardware, but you're still interested in mining? This is where cloud mining comes into play.
Type 1: Mining on video cards (GPU)
GPU mining is the most popular method of mining altcoins such as Ethereum, Ravencoin, FLUX and so on.
If you are a gamer or a designer working with 3D models, then most likely you have a GPU (video card) in your PC.
Using your graphics card in a PC, you can mine any coins available for mining on the GPU. However, to get the maximum profit, we advise you to build a mining farm.
See: "Best GPU for mining in 2022"
Determine the model of your video card and go to the WhatToMine mining calculator. Enter the model of your card, and the website will show a list of coins from mining which you can make a profit.
Remember the risks - the payback of the mining farm can reach up to 5 years, as it already was during the crypto winter of 2019!
Carefully study the issue of mining on video cards before investing in the creation of a mining farm on the GPU. Our website will help you with this!
Mining output to GPU
Mining on video cards is quite a profitable activity, the main thing is not to go to the last money or on credit!
Also consider the cost of electricity, collect farms on the most profitable video cards. With the search for the most profitable video card in mining, this article will help you.
Also, you should realize that GPU mining is not the type of additional income where you can just assemble farms, start mining and forget about it (do nothing else and earn income).
You will need to periodically check the work of the farm (whether the miner has flown out, etc.), clean 1 every 2-3 months from dust, look for new, more profitable coins.
Type 2: ASIC Mining
If you want to invest in equipment for mining major cryptocurrencies, such as Bitcoin, Litecoin, Dogecoin, Dash, and so on, you need to buy an ASIC for a specific algorithm.
ASIC, as we have already said, is a device with an integrated circuit for specific applications, which is designed only for the development of certain algorithms.
Example: In order to mine Bitcoin, you need to buy an Asic for the SHA-256 algorithm. The list of asics for the SHA-256 algorithm. However, by buying an Asic for Sha-256, you will be able to mine not only Bitcoin, but also all coins available for mining working on this algorithm (for example, BitcoinCash, etc.). The same is true with asics for the Equihash algorithm (by buying Asics for this algorithm, you will be able to mine coins such as: Zcash, Horizon, etc.).
For example, you cannot mine Ethereum or Litecoin using Asic for Bitcoin. For these coins, you will need other equipment - for Ethereum it will be a Video card or Asic, and for Litecoin - Asic for the Scrypt algorithm.
ASICs are powerful and more energy efficient compared to GPU and CPU mining. But the problem with ASIC is that every year a new powerful device enters the market, as a result of which the previous models become obsolete and sometimes even start mining in the minus!
As soon as a new competitive Asic comes out, your old equipment will become just a paperweight. ASIC has no other use case other than mining these specific coins with a specific algorithm.
Another problem is that not everyone can buy ASICs, as the waiting periods are huge and the price of entry into mining on ASICs usually starts at ~ $ 3000 apiece!
Also, mining on Asics at home is not suitable for everyone, since Asics themselves are very noisy!
Listen to the noise of Asics in a confined space:
Conclusion on Asics in mining
Summing up the results on Asics, we can say the following - mining on Asics is more suitable for those who have a separate room / house / garage and so on. At home, it is better to resort to mining on the GPU.
It is also worth understanding that the threshold for entering this type of mining is much higher than in mining on video cards. Also, we have calculated more than once in our videos on the YouTube channel that with a budget of only 1 Asic, you will be able to receive more if you correctly allocate the same budget to collect a farm from video cards (you will receive more profit per month). You will also insure yourself more, since you can mine a huge number of different algorithms (coins) on video cards, and most importantly, you can always easily sell video cards!
Asic is a very profitable, but more risky venture! Calculate all the risks for yourself, and also decide where and how the Asics will be installed!
Type 3: CPU Mining
CPU mining is the oldest of all cryptocurrency mining methods. It was first proposed by Satoshi Nakomoto for mining the Bitcoin cryptocurrency.
Yes, initially Bitcoin could be mined on the CPU and GPU, and only over time it was captured by Asiki.
While GPU mining uses the power of the graphics card, CPU mining uses the processing power of the processor to mine cryptocurrencies.
At the time of writing (September 2022), there are coins that you can mine using your processor. The most popular CPU coin is Monero.
But be extremely careful before using the processor for mining. Mining can cause your processor to overheat and slow down the execution of other tasks. Also, if you have a weak CPU cooling system, this can lead to disastrous results - overheating (or even worse).
For mining on a processor, it is most profitable to use a CPU from AMD, Intel can also be used, but the income from mining on Intel is much lower than from mining on AMD!
List of coins available for mining on the CPU:
| Coin | Algorithm |
| --- | --- |
| Monero (XMR) | Random X |
| Verus Coin (VRSC) | VerusHash 2.0 |
| Nimiq (NIM) | Argon2d |
| WebDollar (WEBD) | Argon2d |
| Gulden (NLG) | Sigma |
| PascalCoin (PASC) | Random Hash |
| Banano (BAN) | Folding@Home |
| Myriad (XMY) | Yescrypt |
| Dynamic (DYN) | Argon2d |
| Credits (CRDS) | Argon2d |
| Scala (XLA) | RandomX |
| Arionum (ARO) | Argon2d |
| CPU Chain (CPU) | CPUpower |
| Nerva (XNV) | CryptoNight Adaptive |
| Tera (TERA) | Secp256k1 |
| Sumokoin (SUMO) | CryptoNight R |
| X-Cash (XCASH) | CryptoNight HeavyX |
| Hodlcoin (HODL) | AES Pattern Search |
| Bytecoin (BCN) | CryptoNote |
| GlobalBoost-Y (BSTY) | Yescrypt |
| Aquachain (AQUA) | Argon2id |
| Sequence (SEQ) | Argon2d |
| Yenten (YTN) | YescryptR16 |
| Unitus (UIS) | Argon2d |
| Verium (VRM) | Scrypt2 PoWT |
| Zumy (ZMY) | Argon2d250 |
| Zettelkasten (ZTTL) | BurgerHash v2 |
| Pegnet (PEG) | LXRHash |
| Seele (SEELE) | MPoW |
| Sugarchain (SUGAR) | YespowerSugar |
Output by mining on the CPU
CPU mining is a type of mining that almost every user can try out, since any PC has a processor.
However, it should be understood that this type of mining is not so profitable. For example, an expensive AMD RYZEN 7 3800X processor brings only ~ $0.21 per day! It is up to you to decide on the profitability of this type of mining!
Another minus is the difficulty of creating a large farm at once, using a small number of components (unlike GPU mining).
Plus, this is a great start to explore the world of cryptocurrency mining!
Type 4: Cloud mining
This is the only method where you can mine any type of cryptocurrency without investing in hardware.
Cloud mining is a kind of cryptocurrency mining process that uses a remote data center with total computing power.
This allows the user to mine Bitcoins and/or any altcoins without the need to purchase and maintain special equipment. And so, how does it work?
In fact, the cloud mining company owns all types of mining equipment in its warehouses. These companies are usually large mining enterprises with several farms hosting thousands of mining installations (video cards, ASICs, processors).
All you have to do is pay the company and get a part of its mining equipment for rent. It's not that you physically get equipment for rent, you just pay for hash power.
Depending on the leased hashrate, you will receive a share of payments from the income received from the hash power you purchased.
Just type "Cloud Mining" or "mining equipment rental" into Google and you will find several sites offering this service. Do some research and find the best option that suits your needs.
Видео: CLOUD MINING: HOW START EARN BITCOIN  300$ PER DAY?
Type 5: Mobile mining
Above are 4 common ways of mining cryptocurrencies. Let's talk about another method known as mobile mining. It is not so popular and is accepted only by very few low-capitalization altcoins.
You may wonder: when CPU mining is no longer viable, how is mobile mining possible?
Mobile mining is not a thing, and it will never be as effective as other methods. But still there are some coins that are trying to implement this method in order to attract a new user to mining.
Now that you have figured out the different types of cryptocurrency mining, you may be wondering which coin to mine.
As we have already said, each coin uses a certain algorithm, and each equipment is capable of mining a certain algorithm.
To find out which coin is best to mine, always use mining calculators. This will help you choose the right coin for mining, depending on your equipment.
Note. Mining cryptocurrencies can be risky as you are mainly dealing with a speculative asset class. You may or may not get a return on investment. So do your own research before investing in a mining rig.
Why mine cryptocurrency?
First of all, the only reason why people are trying to mine cryptocurrency is to make money on it in order to receive passive income.
What is cryptocurrency mining?
To understand this better, let's compare cryptocurrency mining with gold mining.
When it comes to mining, gold and cryptocurrency are very similar.
Gold mining is a physical task in which gold mining machines are used to dig up the earth to produce precious metal.
Cryptocurrency mining is similar, but instead of a physical task, a machine (computer) solves computational mathematical problems to get cryptocurrency.
To fully understand the concept of making money through mining, we suggest you read this article about block rewards. It explains what Bitcoin mining is, why miners solve problems and how miners get rewarded for solving a problem (PoW).
Now that you have sorted out the cryptocurrency mining, let's continue and see what ways you can mine cryptocurrency.
Want to be the first to receive unique and important information?
Bookmark us!
Subscribe to our projects!