Alternative energy sources for mining: examples. Volcanic energy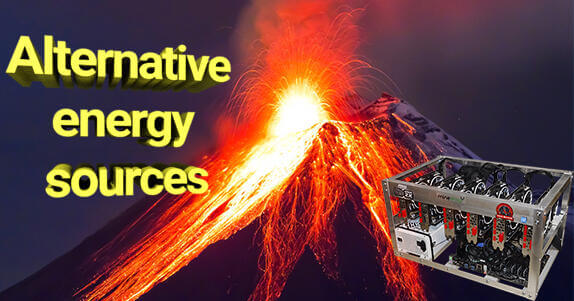 Ecological mining of cryptocurrencies, that is, the extraction of digital currencies using alternative energy sources, is becoming more common.
So, in El Salvador, they began to mine Bitcoins using the energy of a volcano. What are its main advantages and what prospects does it open up for the crypto market?
Volcanic energy for mining
El Salvador, which recognized Bitcoin as the first official means of payment in the world, began using volcanic energy for mining.
As the country's president Naib Boucle announced, the so-called Volcano de mined its first Bitcoin after installing mining equipment at a geothermal power plant.
First steps...

#Bitcoin🇸🇻 pic.twitter.com/duhHvmEnym

— Nayib Bukele 🇸🇻 (@nayibbukele) September 28, 2021
Alternative energy sources are a promising direction
Traditional mining requires enormous energy costs. According to the University of Cambridge, about 121 terawatts of electricity are consumed per year, which is comparable to the consumption of entire countries (for example, Norway or the Netherlands).
Of course, such a release of carbon dioxide into the atmosphere greatly harms the environment. Scientists at the University of Hawaii have published data according to which mining will irreversibly increase the average temperature of the Earth - by about 2 degrees Celsius in 20 years.
At the same time, eco-friendly mining is devoid of these disadvantages, because it uses water, solar or wind energy to extract cryptocurrencies.
For example, in Iceland, the Genesis Mining Enigma mining farm operates exclusively on geothermal energy.
In Japan, Kumamoto-Energy produces and supplies energy derived from solar panels, and its subsidiary OZ Mining produces cryptocurrency by buying excess electricity from Kumamoto-Energy.
This not only reduces the cost of mining, but also makes it more environmentally friendly. This allows you to recycle excess electricity and reduce the cost of crypto mining.
Advantages of alternative energy sources for the crypto market
The transition of mining to more environmentally friendly energy sources is undoubtedly a big plus for the crypto market.
It allows you to reduce the cost of production due to cheaper energy or excess electricity.
In addition, the use of eco-friendly mining makes crypto mining safer for the environment.
Author: Dmitry Noskov - expert of the StormGain crypto exchange (a platform for trading, exchanging and storing cryptocurrencies)
Want to be the first to receive unique and important information?
Bookmark us!
Subscribe to our projects!