Pop singer Justin Bieber spent $1.3 million dollars on NFT. What other stars love these tokens?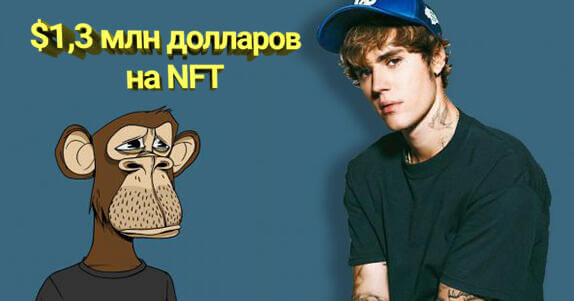 Rumors are circulating on the cryptocurrency market that the famous pop singer Justin Bieber invested in non-interchangeable tokens (NFT, non-fungible token), spending $ 1.3 million on NFT from the famous collection with monkeys Bored Ape Yacht Club. Who else among the stars is not indifferent to NFT?
Stellar interest in NFT
The OpenSea account, which is associated with Canadian pop singer Justin Bieber, was purchased for 500 Ethereum tokens (for about $ 1.3 million) NFT from the acclaimed collection with monkeys. His account now holds more than 1,500 NFT.
A source: opensea.io
The NFT Bored Ape Yacht Club collection is very popular among the stars. In particular, the American rapper Eminem bought NFT from it earlier, which, however, spent a more modest amount - 123.5 Ethereum or a little more than 450 thousand dollars.
I'm living in a simulation.

Thank you @Eminem for buying my ape and joining the club!

Madness. Let me write a lyric in your next single pic.twitter.com/myGNRmMLeD

— GeeGazza  (@Gee__Gazza) December 31, 2021
The collection with monkeys is, of course, megapopular, but the stars are also interested in other NFTs. So, in September 2021, American rapper Snoop Dogg announced that he was behind an account that owned a collection of 247 NFT, including nine CryptoPunks, which was estimated at almost $ 18 million.
I am @CozomoMedici

— Snoop Dogg (@SnoopDogg) September 20, 2021
Not just for shopping
Stars not only buy NFT, but also earn with their help. For example, Hong Kong singer Hanjian Tan sold his music video in the form of NFT in May last year, earning 200 thousand dollars in just a minute and thus setting a kind of record.
Tan believes that the NFT will become a kind of "lifeline" for independent musicians and will allow them to successfully fight the monopoly of music corporations.
Famous people also use NFT to raise funds for charitable purposes. For example, the popular American comedian Steve Harvey released his NFT in order to raise money for a family charity.
And singer Lindsay Lohan sold her own NFT Lightning at auction for almost $ 60,000, subsequently transferring part of the proceeds to charities.
NFTs have become extremely popular among famous people today. They are not only collected as art objects, buying for a lot of money, but also issue their own tokens to earn with their help and raise money for charitable purposes.
Want to be the first to receive unique and important information?
Bookmark us!
Subscribe to our projects!